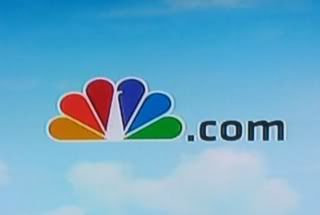 Alright, I'm gonna need to call in some backup on this one. Is the peacock regonizable enough that people will easily equate it with NBC? And, if so, will it "click" that the URL is NBC.com? I'm leaning towards no but am a bit biased (grew up without cable so CBS, NBC, and ABC are ingrained in my mind.) What do you all think? Please drop a comment and we'll go with majority rules on this one...
UPDATE 12/8: So far the ayes have it... 6 to 5 in favor of Good URL. Will wait another week or so before crowning, er... labeling it.
UPDATE 12/16: OK, the people have spoken... 22 for and 15 against with 2 sitting on the fence saying it depends on their target audience. Looks like this is a Good URL.