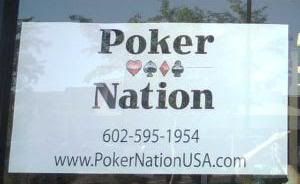 OK URL-ers, gather 'round. Christine Korza has offered up her URL as a case study for us.
The story begins about a year ago with a new retail store and a dream of online and offline riches. Here's some background straight from the source...
"I tried to find the best balance between available domains and good viable and marketable names for the store... My store does 3 different things with regards to poker so I wanted also to have a non-specific name that I could expand later as well.... I am slightly breaking a rule by having USA at the end of my URL but I felt the sacrifice was worth it to get a memorable .com domain instead of a .info or a .biz... Poker is overserved online and underserved in bricks and mortar retail... If nothing else, the 'USA' at the end does make people think I'm a larger, more successful store than I actually am."
When I asked Christine if she considered renaming her store Poker Nation USA to match her URL, she said, "I'd rather have something that rolled off the tongue. Typing 3 more letters isn't a big deal but adding 3 more syllables is."
It's certainly hard to argue with Christine's logic here. Poker is one tough category online. What do you all think? Did Christine make the right call? What would you have done differently? Is this a Good or Bad URL?