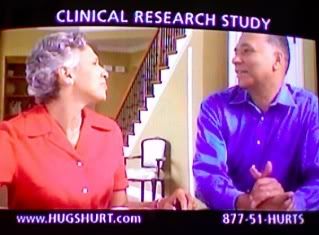 I've been a little deliquent on checking the
Good URL Bad URL mailbag
. When I logged in today, I found a slew of good submissions (and some great offers to help some friends in Nigeria move money into my bank account!) This one from Brad came with thoughtful analysis so I'll just cut and paste his words verbatim...
"There's an ad on TV encouraging people with painful shingles to take part in a research study. The retired couple in the ad sadly complain that sometimes it hurts to hug people. So the URL is HugsHurt.com. Neat! Except the URL is displayed throughout the ad like this. I thought they were selling a huge shurt. However, they got it right in this print ad.
My two cents:
- TV ad: Lowercase www and .com -- there was potential for LeadingCaps, but alas.
- Note the two ads have slightly different toll-free numbers. Someone gets a hug for tracking that ROI !!
- At the site, there's no privacy statement. Nothing about who's sponsoring or conducting the survey. A WHOIS lookup shows an ad consulting company in New Brunswick, Canada."