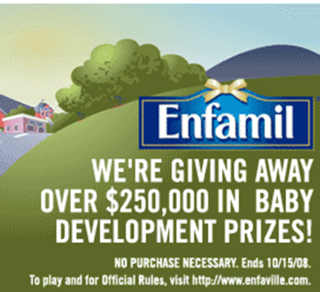 My little girl,
Eliara
, loves Enfamil but if she's truly her daddy's daughter, she'll grow to hate the way they display their URL. A baby is about the only one that needs to be told that the domain comes after http and www in the address bar. But babies aren't the decision-makers for formula so catering to them makes no sense. Actually, scratch that, they are the decision makers -- our little Ellie couldn't tolerate regular Enfamil so now we're using the soy version -- but they certainly aren't the ones visiting the websites and making the purchases so, again,
babying
the URL here is foolish.
UPDATE 5/27 - Reader Jeremy commented that the URL is Enfaville.com, not Enfamil.com. Apparently Enfaville is a cyber-paradise for formula lovers. Without branding this magical world in the ad (or event mentioning it at all), using it as the URL is just
childish
.