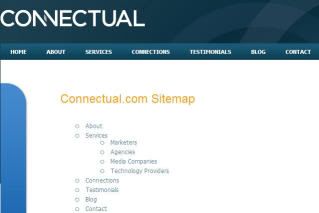 For those of you wondering why my posting frequency has been down, here's the answer...
Today I launched my new business,
Connectual
. Essentially it's a rep firm that connects companies looking for innovative digital marketing opportunities with those who offer them.
I've spent the last few months making sure this URL (and the organization behind it) was as good as it could be and that's certainly cut into my URL-aholism. I'm sure it won't be long before I relapse and fall off the wagon. In the meantime, please keep the fresh material coming at
GoodURLBadURL@gmail.com
and the
Good URL Bad URL Facebook page
.