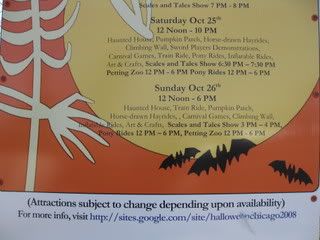 Don't even know where to start with this one, except to say that this URL is
spooky
. The chances of anyone remembering this one are slim to none. They'd have been better off shrinking it down with TinyURL.
TinyURL.com/6eh6ek
is probably easier to remember than this
http://sites.google.com/site/halloweenchicago2008
. This URL is definitely more trick than treat.
Note:
As promised
, I've started going back and labeling all my posts to make it easier to slice and dice around the Do's and Don'ts I've listed on the right rail. Still a work in progress. Want to create labels for media format (TV, print, OOH, Direct Mail, etc.) as well as categories like "Craziest Mistakes" and "Best Ad Integration." What others would you like to see?